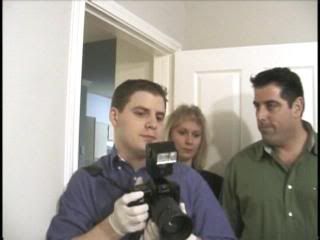 Bad things are happening at the Valley Creek Apartments.  The residents are getting naked and getting murdered by a stranger with a knife.  Could the murderer by the creepy landlady?  Or could it be … someone else?  Two detectives (played by director Darla Enlow and Marc Page) are determined to solve the crimes and it quickly turns out that both of them have a connection to every single person who has been murdered.  The very angry coroner (Scott Killman) is upset because someone keeps breaking into the morgue and stealing all of the toe tags.  An even angrier police captain (Larry Scott) shows up at random moments to yell at the two detectives.  Finally, there's a crime scene photographer (Andrew Lombardo) who seems to enjoy his job way too much.  Needless to say, it all concludes with a surprise ending that actually works a lot better than you might expect.
Toe Tags, which was released in 2003, is probably the one of the least known, most obscure films that I've ever reviewed for the Shattered Lens.  I came across the film as a part of Decrepit Pit Of Nightmares box set, which I bought as the result of reading a review of Las Vegas Bloodbath that was written by our very own Ryan C., the Trashfilm Guru.  So, when you get right down to it, its' pretty much Ryan's fault that I watched Toe Tags.
Well, that's okay because I actually enjoyed the nonstop silliness of Toe Tags.  Clocking in at 68 minutes and shot-on-video, Toe Tags is one of those zero budget exploitation films that you have to admire just because it actually managed to get made and released.  The whole film has this random, improvised feel to it.  The story is quite bold about its refusal to make any sense and, while none of the actors give good performances, they're all trying so hard that it's impossible not to like them.  My favorite performers were Scott Killman and Larry Scott.  You could seriously tell that both of them were having a lot of fun going over-the-top with even the simplest line of dialogue.
The end of the film features about 10 minutes of clips of the actors blowing their lines or cracking up into laughter and, to my surprise, I actually enjoyed this obvious padding.  It was nice to see that everyone had fun even while they were having to play dead and it reminded me of the fun that I use to have doing plays in high school.  The end credits feature credits like, "Thank you Craig Lamb for the endless supply of blood" and "Production assistant…anyone on the set!," and, again, they just add to likable drama club feel of the whole production.
(Warning: There's some nudity in the trailer below and a lot of fake blood.)